Overview
Details
System
Support
CNC Backplot Editor & more
with lots of Tools for CNC Experts.

FILOU-MX is a CNC-Backplot-Editor with a modular toolbox containing lots of tools for CNC Experts.
With the powerful CNC editor, a CNC Profi can edit, optimize, verify, export, analyze and transmit his CNC programs to the machine.

FILOU-MX can handle nearly unlimited filesizes. The Limits are set by the resources. The CNC-Backplot-Editor can open multiple files at a time with the ability to cut, copy, and paste between them.
In every Backplot you can zoom, turn, etc. (on the left picture 4 CNC programs).
In the
CNC Backplot
the 3D-Display of toolpaths can be, turned, zoomed or moved.
Display CNC Programs as movementlines graphicaly on your Display. Thats why the Backplot is called Viewer in FILOU-MX. In the Animation the CNC toolpaths are displayed sentence by sentence. The editor and animation can be kept in sync.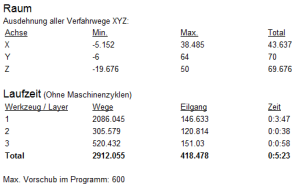 In the Analyse FILOU-MX produces a Report of the NC-code. It shows the runtime in whole or per tool, the Extension of the toolpath, the max. feedrate and much more. For every program additional data can be added: Rawmaterial, customer, machine, etc.
G-Code, HPGL, etc. can be exportet into other formats. Depending on the format there are different possible Setup Options.
On the left an exaple for export to HPGL.
Supported formats are:
G-Code (z.B. Sinumerik, Fanuc, DIN, ISO, etc.)
Heidenhain Klartext
ISEL NCP
DXF
HPGL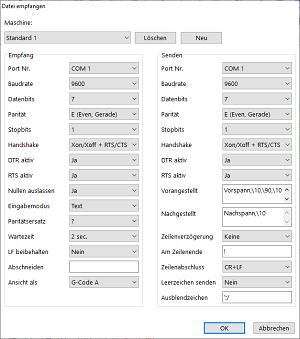 Transfer to the machine
Machines that have an RS232 (V24)/COM Interface for datatransfer, can receive the data directly from FILOU-MX.
The bidirectional datatransfer is not dependent on the controll.
Interface
A Connection to other programs is possible.
System-Requirments
Windows XP | VISTA | 7 | 8 | 10
For the Backplot OPEN-GL Support is needed.
FILOU-MX 2.0 – CNC-Backplot Editor for Experts

FILOU-MX is a strong CNC Backplot Editor
But the CNC-Backplot Editor can do so much more. With FILOU-MX you can simulate, visualize, edit and analyse toolpaths of your CNC-Programs. Once the CNC-Program is approved, it can be transfered to the machine with FILOU-MX. An export function into other formats completes the program.
Viewer (Backplot)
CNC-Editor
CNC-Import
Interface
and optional moduls
Simulation
Analyse
Datatransfer
CNC-Export


CNC-Editor
All standard functions of an editor
Special CNC functions
Customizable line/block numbering and renumbering
Column editing
Dynamic 3D backplot drawing of toolpaths in the Viewer
Opening of several arbitrary large data files at the same time
Direct connection between the editor and viewer. A marked phrase in the editor is marked in the viewer.
The editor can be splitted
Viewer (Backplot)
All CNC toolpaths have their own layer
Tools are displayed in different colours
Optional view of the program origin
Delineation of the used workspace
Automatic level identification (G17, G18, G19)
Layer management
Fastfeed on/off
Incorrect tool moves or errors in fastfeed can be identified at once
Direct connection between the CNC-editor and backplot. With clicking on a toolpath in the backplot the corresponding phrase line in the CNC editor is marked. Vice versa a marked phrase in the CNC editor is marked coloured in the backplot.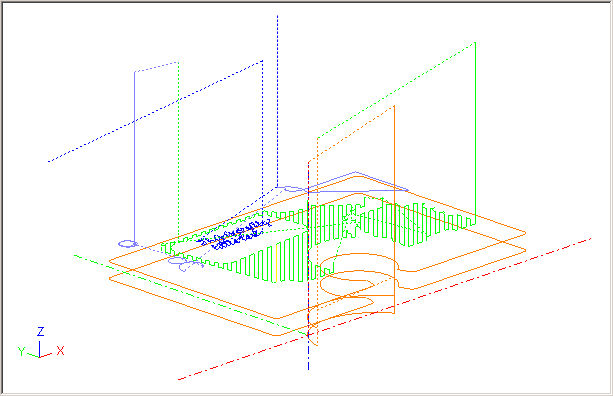 Import
Import of NC-Programs in the folowing formats:
G-Code
DIN/ISO
Heidenhain Klartext
Sinumerik, Fanuc, u.a.
ISEL-NCP
DXF
HPGL
adjustable importfilter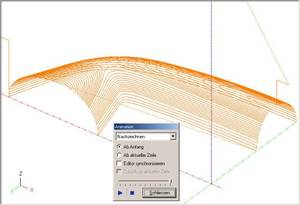 Animation
Animation of toolpaths
Fast motions
Slow motion
Geometry-Informations for every toolpath
Animation of programparts
Different display options
Synchronized editor
Active zoomfunctions during animation
Data-Transfer
Direct Data-Transfer to the CNC machine and back
Support for RS232 (V24) Interface
Unlimited count of machines
Separate Setups for send and receive
High-Speed transfer, adjustable from 110 to 256.000 Baud
Bidirectionale datatransfer
Indipendent from the control
Analyse
Determination of maximum travel
Determination of maxiumum feed
Determination of used tools
Creation of a tool list
Calculation of machinetime
Direct connection between editor and viewer. Clicking on a toolpath will make the editor jump to the corresponding line in the editor.
Data and grafik can be printed as a report.

Export (conversion)
All formats imported into FILOU-MX can be converted into the following formats:
G-Code (Sinumerik, Fanuc, u.a.)
->
->
->
->
->
Heidenhain (Klartext)
ISEL-NCP
HPGL
DXF
Tabelle (ASCII)
Heidenhain
(Klartext)
->
->
->
->
->
G-Code
ISEL-NCP
HPGL
DXF
Tabelle (ASCII)
HPGL
->
->
->
->
->
G-Code
Heidenhain (Klartext)
ISEL-NCP
DXF
Table (ASCII)
DXF
->
->
HPGL
Table (ASCII)
System requirments
Comfotable CNC Backplot Editor
FILOU-MX 2.0 is a Floating Lizenz*
Available languages are german/english.
Supported OS are: Windows XP/SP3, VISTA, 7, 8, 10
Support via Supportform
Support for FILOU-MX
For FILOU-MX we offer various Support:
Support request via Email
… send us your questions useing the form bellow.
Service Releases
… can be found in the Download-Area.
You need to login to send us a Supportquestion.
login
.