Light & Economy
USB
Professional
New in V3
Vergleich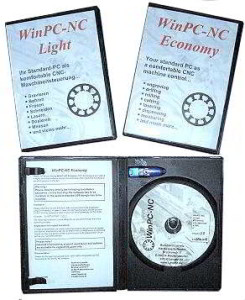 The inexpensive variants
WinPC-NC Light
and
WinPC-NC Economy
control the motor output stages directly via an LPT printer interface on the PC without any additional hardware.
WinPC-NC Light and WinPC-NC Economy can control not only the usual clock/direction signals for motor control but also the widely used SMC stepper motor cards. These are operated directly with the current patterns for the motor windings.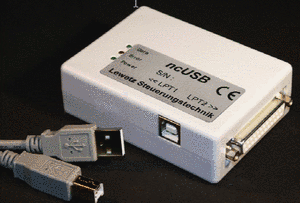 The variant
WinPC-NC USB
has a comparable functionality to WinPC-NC Economy, but does not require a built-in LPT interface. WinPC-NC USB can therefore also be used on modern computers, notebooks or netbooks. WinPC-NC USB is delivered with the small USB box ncUSB and a USB cable.
The motor is controlled in the USB module and is therefore largely independent of Windows and its background processes and programs. The generated step frequencies are up to 80kHz for interpolated trips. With WinPC-NC USB you are well equipped for the future and independent of LPT interfaces in the PC.
WinPC-NC USB also offers no restrictions on the equipment of the computer and can be used on most currently available Windows operating system versions.

WinPC-NC Professional
with external axis controller CPU also meets all requirements for industrial applications. By outsourcing all time-critical real-time functions to the axis controller, it runs absolutely stable, reproducible and is completely independent of system influences, other installed programs or programs running in the background.
WinPC-NC Professional is successfuly in use for more than 4000 times worldwide since over 15 years and proves its reliability and accuracy in various applications every day. The supplied axis controller is available in various designs and optionally with signal adapters, additional input/output modules or external keypads for a convenient machine setup. It is connected to the Windows PC with a serial connection cable or connected to a USB-serial adapter and then completes its control tasks completely reliably and independently.

The most important new features of the new version 3.0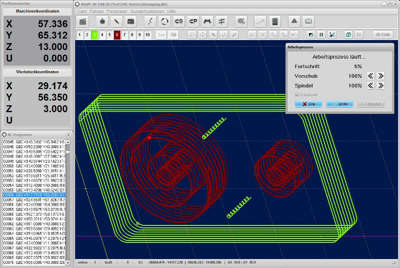 A modern and revised user interface with typical Windows 10 layout, modern buttons, menus and dialogs has been completely redeveloped. The new OpenGL graphics display offers full 3D graphics with intuitive 360° rotation, continuous zooming and moving with the mouse wheel or mouse movements.
Live position tracking of the machine position in the graphic display.

Display option for empty paths as light gray lines.

Show and hide the old contours according to newly calculated toolpaths with the CAM functions.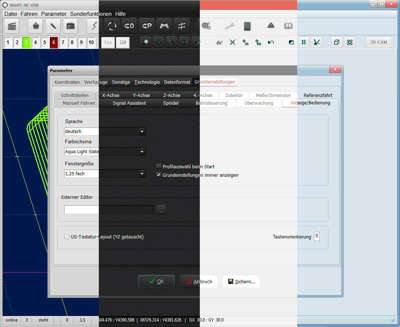 Color combinations can now be selected and set as styles in the parameters themselves. Several dark and machine-panel-like templates are also included. Button, menu, window and font sizes can be adjusted in several levels to the monitor size used.

Completely new parameter structure and distribution, better grouping of setting options according to logical functions and components and thus increased clarity. However, the known and familiar designations, functions and dependencies where retained, so that no great training and no new learning is necessary.

Separation of basic settings for one-time settings or all specifications during the initial commissioning of the machine and project-related parameters that are always dependent on the loaded file or the job execution.

Intuitive help via the F1 function key and the right help for every situation or input option. In addition, the comprehensive manual can be displayed and searched completely using an installed PDF reader.
The well – known and proven CNC control program WinPC – NC is available in four different versions with different functional scope.
Here is a WinPC-NC version comparison.
Light
Economy
USB
Prof
Signale und Ansteuerung
Ansteuerung der Maschine
LPT
(LPT1)
LPT
(LPT1+LPT2)
USB 2.0
kleine Box
serieller
Achsencontroller
Eingänge für Signale
5
10
10
bis 256
Zusatzausgänge
4
8
8
bis 256
Motorstromabsenkung
 ✓
✓
✓
✓
Ein/Ausgänge frei zuordbar
✓
✓
✓
✓
Industrie taugliche 24V Signale
–
–
–
✓
Takt/Richtung Signale mit versch. Adaptern oder Verstärkern
–
–
–
✓
Spindel Analogausgang
–
8Bit-PWM
8Bit-PWM
0-10V PWM
Toggle-Signal als Sicherheitsfkt.
✓
✓
✓
✓
Echtzeit unter Windows, Stabilität
gut
gut
sehr gut
sehr gut
Abhängig von Hintergrundprozessen
ja
ja
nein
nein
Max. Schrittfrequenz (kHz)
12
24
80
40
Ansteuerbare Achsen
3 (XYZ)
4 (XYZ TABC)
4 (XYZ TABC)
4 (XYZ TABCUVW)
Erforderliche Hardware und Betriebssystem
Betriebssystem
XP/VISTA/7 nur 32 BIT
XP/VISTA/7 nur 32 BIT
XP/VISTA/7/ 8/10 32/64 BIT
XP/VISTA/7/ 8/10 32/64 BIT
Min. Anforderung PC
Pentium Athlon
DUAL QUADCORE
>1,4GHz
Pentium Athlon
DUAL QUADCORE
>1,4GHz
Pentium Athlon
DUAL QUADCORE
>1GHz
Pentium Athlon
DUAL QUADCORE
>1GHz
Erforderliche Schnittstellen
LPT
LPT und USB
USB 2.0
COM oder USB-Seriell Adapter
Anpassung an die Mechaniken, Einstellmöglichkeiten
Achsauflösung einstellbar
✓
✓
✓
✓
Geschw./Rampen einstellbar
✓
✓
✓
✓
Testfkt. für Mechanik und Signale
✓
✓
✓
✓
Umkehrspiel pro Achse
✓
✓
✓
✓
Verschiedene Rampenprofile
–
✓
✓
✓
Synchonisation mit Eingangsignalen
–
✓
✓
✓
Individuelle Rampenprofile ladbar
–
–
–
✓
Datenformate, Importfilter
HPGL, PLT
✓
✓
✓
✓
Bohrdaten, Excellon, Sieb&Meyer
✓
✓
✓
✓
DIN/ISO mit Unterprogrammtechnik
–
✓
✓
✓
Multicam 2D und 3D
–
✓
✓
✓
ISEL NCP
–
✓
✓
✓
Postscript, Vektorformationen, EPS/AI
–
✓
✓
✓