80 – 90% of all CNC-parts are 2D-parts, thats what experts say.
The advantage is clear, there is no need for a complex 3D model. With the CAM-Module, the 2.5D CNC-code can easily be made of a simple 2D-geometry.
2D CAD-Modul
CAM-Modul and Editor
3D-Simulation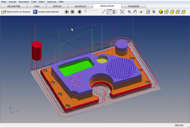 FILOU-NC covers all steps from the fast and easy 2D drafting, with great
CAD tools
, to generating 2.5D NC code. There even is a 3D NC-Code sumulation.
But not only the geometry creation is fast and easy, even the CAM-Module is very easy to use. You will create 2.5D NC code by just a few clicks. FILOU-NC is designed for the daily work of the CNC-milling specialist.
With FILOU-NC you can do all the work in one program, even the transfer to the machine / CNC-Control.
Less effort means less time and therefore cost savings. The NC code with the finished toolpaths can be simulated in 3D with FILOU-NC. Save money and time by reducing down times and junk parts. You can do everything with FILOU-NC, from drawing geometry to NC code transfer to the machine.

The Manager
In FILOU-NC, the "Manager" manages the structure of the nc-code. Executed milling work is automatically inserted in a tree navigation according to the task. All parameter can be changed, copied or moved at any time. The NC code can then be recreated at the push of a button.
Simulation of CNC programs
Already existing 2.5D and 3D CNC-programs (max. 3 axis) can be checked with the 3D-Simulation in FILOU-NC. This does not only apply to NC code created in FILOU-NC, compatible NC-code from other programs can also be simulated in 3D. This is CAM for professionals.
Try FILOU-NC free of charge and without obligation. The trial version is fully functional for 30 days, after that you can unlock the trial version to your version with the purchase of a license key. There is no need to reinstall.