Do you need to prototype your 3D models in materials that are not 3D printable?
Do you build 3D models of wood, perhaps plastic prostheses or wax models for jewelry?
CNC milling machines are being used more and more often for these and similar tasks.
A CAM program quickly and easily generates the required CNC code.
You are not a proven CNC specialist but a designer, modeller, jewelry designer, artist or you are from the medical industry? Not a problem!
With the CAM program DeskProto, you can quickly and easily create 3D CNC code from your 3D models or photographs without any fundamental CNC knowledge.
Since DeskProto also works as a 64bit program, very large 3D files can be processed.
Produkt-Design


www.brandesenmeurs.nl


Hobby + Modellbau


www.epokemodeller.dk




Schule




www.plc.qld.edu.au

Schmuck-Design


www.digital-jeweller.com


Food-Design


www.roberts-chocolate.com

Medizin+Dental




www.lftonline.eu


Kunst


www.deskproto.com

Formenbau


www.protoway.com

Holzbearbeitung


www.deskproto.com
The CAM program DeskProto is designed to quickly and easily create 3D CNC programs for milling machines from 3D files (STL, VRML, DXF). Particular attention was paid to the fact that even non-CNC specialists can use the CAM program to quickly create CNC code for their milling machine.
3 editions of DeskProto are available:
Entry Edition
In the ENTRY Edition, the CAM program provides the most important parameters for creating the CNC code for 3D models and simple 2D milling. In addition, 3D milling of a bitmap file is supported.
Expert Edition
The EXPERT Edition has the complete DeskProto functionality for 3D CAM programming for CNC machines with three simultaneous axes.
Multi-Axis Edition
In addition to three and four-axis machines, the MULTI-AXIS Edition also supports a 5-axis CNC machine with a pivotable rotary axis for 3D CAM programming.
Rapid prototyping on CNC machines speeds up the development and design process, as a "tangible" or tactile result quickly becomes available.
What does DeskProto offer?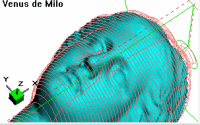 DeskProto is a CNC programming system (CAM) for automatically generating 3D CNC code for CNC milling machines.
At an exceptionally low price, DeskProto provides simple, fast and secure production of 3D CNC code. Many main applications from rapid prototyping with conventional milling machines to conventional 3D milling.
DeskProto is inexpensive.
A standard PC, a short learning process and a small price.
Try DeskProto 7
Here you will find the download for the 30 day trial.