Why a post-processor?
With the help of postprocessors FILOU-NC is able to create the right NC-Code for almost all CNC-Controls.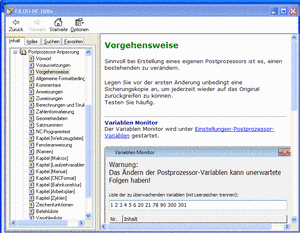 Thanks to integrated macro programming, postprocessors also offer the option of using machine-specific cycles.
The adaptation of the post-processors can also be made by the user. Eine Beschreibung dazu findet sich im Handbuch bzw. Hilfe. Das Gleiche gilt auch für die Makro-Programmierung der Steuerungs-Zyklen bzw. eigener Funktionen.

If the CAM-Postprocessor is customized by us, this is based on already existing processors. Up to now more than a thousand individual postprocessors have been customized.
FILOU-NC has been optimized for milling and drilling.

FILOU-NC is equipped with about 30 common postprocessors.
Equipped Postprocessors::
BZT B&R
BZT-USB
CHARLYRobot
cncGraF
CONTOUR 2 / 3
DIALOG3
DIALOG4
Dialog 11 – 12
DIN-ISO Plasma
DIN-ISO
Eding CNC
FANUC oMC
Haas HR2
HPGL
HPGL B
ISEL NCP
KinetiC-NC
Knuth Gplus 450
MACH R
MACH IJ
MACH Plasma
MAHO 432
Mitsubishi
winPCNC
WinPC-NC 2D
Planet USB-CNC
Sinumerik 810-840
Heidenhain TNC 135 – 155
Heidenhain TNC 355
Heidenhain TNC 407 – 426
Heidenhain TNC 530
Previously created, optional available Individual-Postprocessors for FILOU-NC:
(parts from the Postprocessorlist)
FRÄSEN / Bohren
Acierea, Alberti, Andron, Bosch Alpha 3, Bosch CC120 M, Bosch CC220M, Deckel Contur 2 + 3, Datron, Dialog 3 + 4 + 11 + 112
DMG Mill Plus, Dynamite, Emcotronic, Engelhardt TNC 3300, Fanuc 5M + 10M + 16iM + 0MC + OMD + CNC88, Genesis, Grohmann, Grundig D112 + Einzelpunkt, Heckler & Koch 783 M + 785, Heidenhain TNC 135 + 150 + 151 + 155 + 310 + 355 +4 07 + 410 + 415 + 426 + 430 + 530, IBH, ISEL Zwischenformat (NCP), Mazak V12, Maho 232 + 332 + 432 + 500 + 532, Mikron / Mitsubishi, NUM 760 + 1040, NumeriPath 8000, PTB1000, Roeders HSC, PC-NC, Siemens S3M, Sinumerik 6M + 800 + 802S + 810D + 810M + 840D + 840M + 850M + 880, Syma 300M, Traub, Ultimax, Weeke 750 F