Nevertheless, NC20 has remained true to the previous familiar way of working. Users of previous FILOU-NC versions find their way around quickly and can work directly effectively.
Manager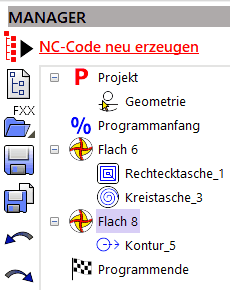 Many optimizations in the background have improved the manager's performance. Very large projects are now loaded much faster and also the loading progress is displayed directly.
An improved navigation and the highlighting of the relevant data in the drawing, when selecting a branch, have further improved comfort.
The functions of the manager can now also be accessed via a point in the main menu.
CAM
Here are the highlights of the new FILOU NC20. Five new CAM-functions have been added:
In addition to the new CAM-functions, many of the existing functions and their dialogues have been revised and improved. For example, there are new sorting functions for batch processing(video), and movement optimization is now also available on rectangular pocket and circular pocket.
Geometry
With the help of the improved layer management, working in the geometry area has become even more comfortable.
Layers can now be activated and made visible with just one right-click at the same time.
Editor/Backplot/3D Simulation
Improvements in the background made the backplot more comfortable and, above all, the editor better readable. The calculation of the backplot has been accelerated by almost 30% and the threshold for the automatic update has been increased.
Allgemein
All standard controls (icons) have been replaced with new versions, which can be easily adjusted in size. In addition to a more modern look, this has improved compatibility.
An automatic scroll mechanism (no click or mouse wheel needed) makes it easier to use FILOU NC20 also on small screens.


But the display on high-resolution screens has also been improved. If you move the mouse over an icon with submenu, the submenu will open automatically.
more setting options for display
improved comfort in operation, Ctrl+X, C, V, Z
significantly improved performance
Postprocessors
All standard postprocessors have been redesigned, as well as new ones added (Beamicon).
The setting options for selected postprocessors in the user settings have been extended.
Operating system
A modern, powerful and stable software has certain demands to its operating environment. FILOU NC20 can be installed on all Windows versios starting from Windows Vista up to Windows 10. Windows XP is not supported any more.


Many new features and improvements are offered by the new FILOU NC20. The highlights include a revised program interface with new icons, many new functions and optimizations in the program.